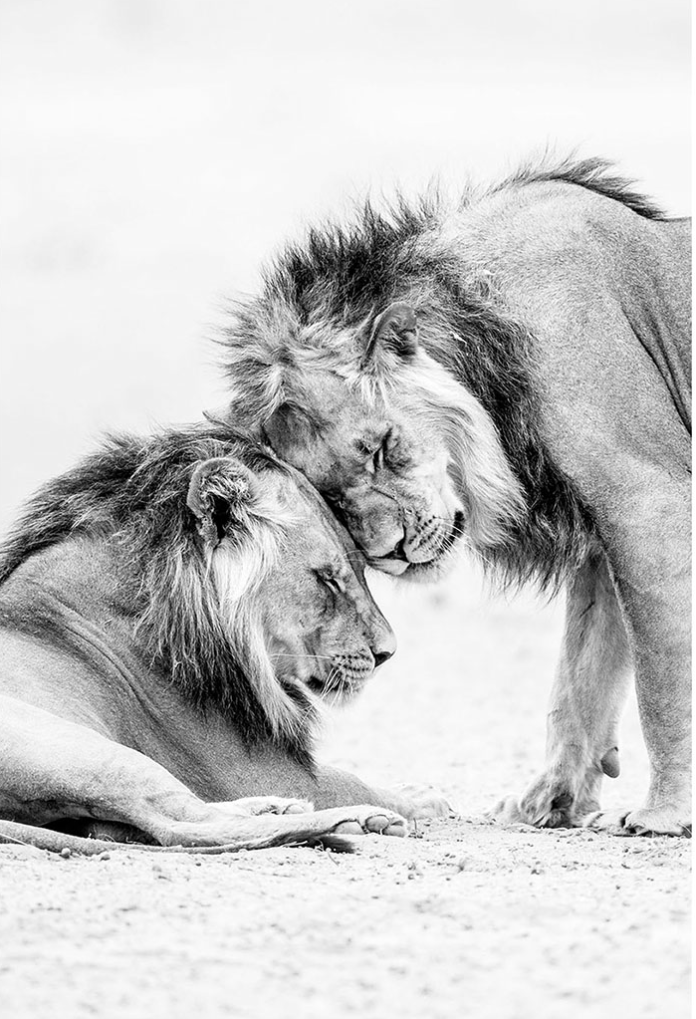 My favorite park in South Africa is the Kgalagadi Transfrontier Park. I have been visiting annually since 1990 and have undertaken more than 50 trips over the years. The park is perfect for a self-drive photographic safari to search for predators and other desert creatures. For me there is no better place to see the big cats, and the open terrain lends itself to great photographic opportunities.
During a recent trip I encountered 2 male lions fast asleep one morning in the Auob River. It was a heavily overcast day and the scene offered very little photographically. A few vehicles passed by, and one photographer stopped to lament how poor the light was, before heading back to camp.
I sat and waited as the dull morning brightened a bit. Suddenly both lions sat up, and one stood and stretched. I knew at that moment there was a chance of a greeting between them. As he wandered over to his colleague I was absolutely ready for the briefest of head rubs, and managed this photo. I am very happy with the result, as too often I become distracted or impatient at a quiet scene and miss the special moment!
I love this tender encounter, the closed eyes, and the soft light that permitted a black and white image. This photo has become a firm favorite of mine, and certainly one of my best lion photographs. I have since made many prints and canvas of this photo, and one client calling it "Loving Lions". I think that works really well – I love a simple photograph with a timeless appeal.
So much has changed from me as a photographer over the past 25 years. From manual focus lenses to autofocus, from film to digital, the evolution of the internet, and ever increasing standards and competition in the industry. One thing remains the same – good photographic opportunity is rare and one must always be ready for the unexpected.
Canon EOS 5Dmk3 Canon 800 mm lens, 1/640 sec, ISO 800, f5.6