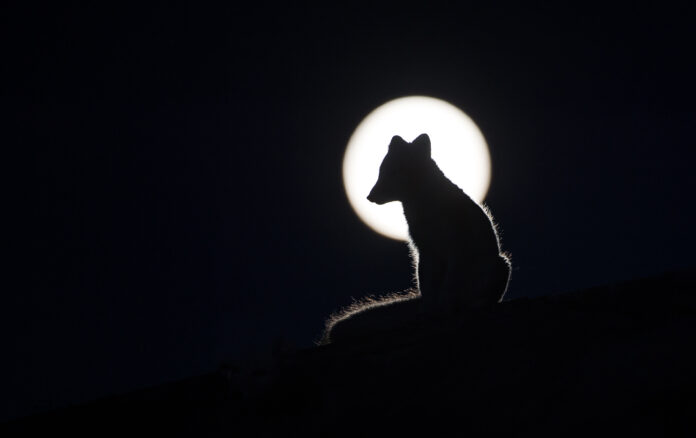 The first time I saw the Arctic fox was a moment of magic! Fifteen years later it´s still feels magical to see this animal in their right element: In the Norwegian Mountains.
I spent a lot of time at mountains of Dovre – looking for Musk oxen and the Arctic foxes. But there are also many other species that make this part of Norway one of my favorite areas of the Nordic nature. When there is a good year for the rodents – it´s also a high number of different spices of owls and other birds of prey. And at the wet land called "Fokstumyra" it's the moose that takes over after the birds are finish with their nesting.
" – The Arctic fox is one of Norway's most endangered mammals, and is listed as critically endangered in the Norwegian Red List. Therefore, it is a blessed experience to see them in the mountains".
Keep the distance
It's a dilemma to photograph the Artic fox: As a photographer, you want to come as close as possible – and the foxes wants us as far away as possible. Therefore, it becomes an important reflection for us photographers how close, and for how long we stay nearby the fox dens.
At several of the most famous dens sites, there has been a large amount of nature photographers who have stayed in tent only meters from the dens – and spend several days in the same area. Therefore, it is important to inform each other about where the boundary goes from observing – to and invade. I think it's better to come up with meaningful advice – than a staggering index finger and extension at the social media.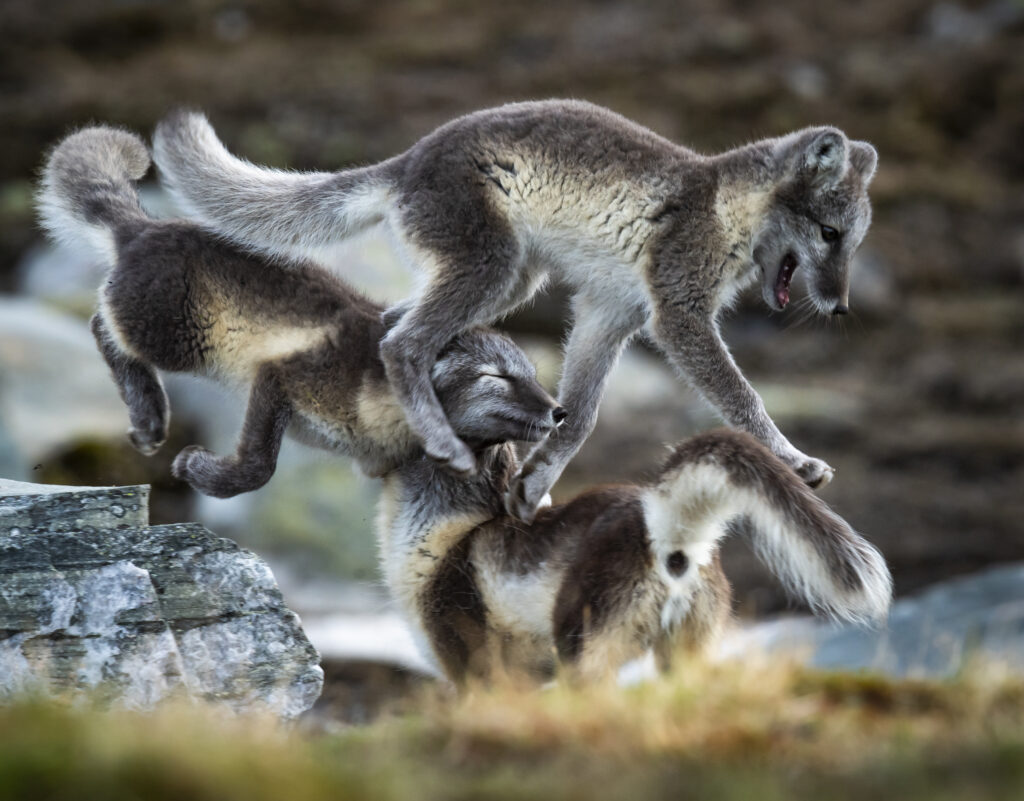 Low perspective – high pulse
Some of the Arctic fox habitats I have visited are a few hours walk from the nearest car park. And since I like to have a low perspective, I let my tri pod stay in the car. For four reasons. 1. The photo bag is heavy enough as it is. 2. The low perspective is mentioned. 3. If I had to stand on the mountain plateau with a tripod, I'm visible to other mountain hikers – and the chance of a visit of a hiker is increasing.
4. But the main reason is that Arctic fox will not see me. That's why my camouflage is my best friend – in addition to a 600mm and 800mm! I use a camouflage called "Jervenduken". It's a Norwegian brand and its water proof, wind stopping and with a good isolation.
September 19th 19.52
This date I will always remember. Inside my head there are many pictures. Some of them I have taken – and yet others have not yet "come out". After ten years of waiting I got my reward. The pictures I was dreaming about was the Arctic fox under the full moon, or "in it" of you like. I haven't been at mountains of Dovre every time it has been a full moon – but there have been many hit & miss trips in the ten years I've tried. Some of the times the weather forecast reported nice conditions and a clear sky. After 400 kilometers in the car I often reached the mountains in low clouds and a foggy weather. But most of the time the conditions were great – but then the Arctic foxes was missing…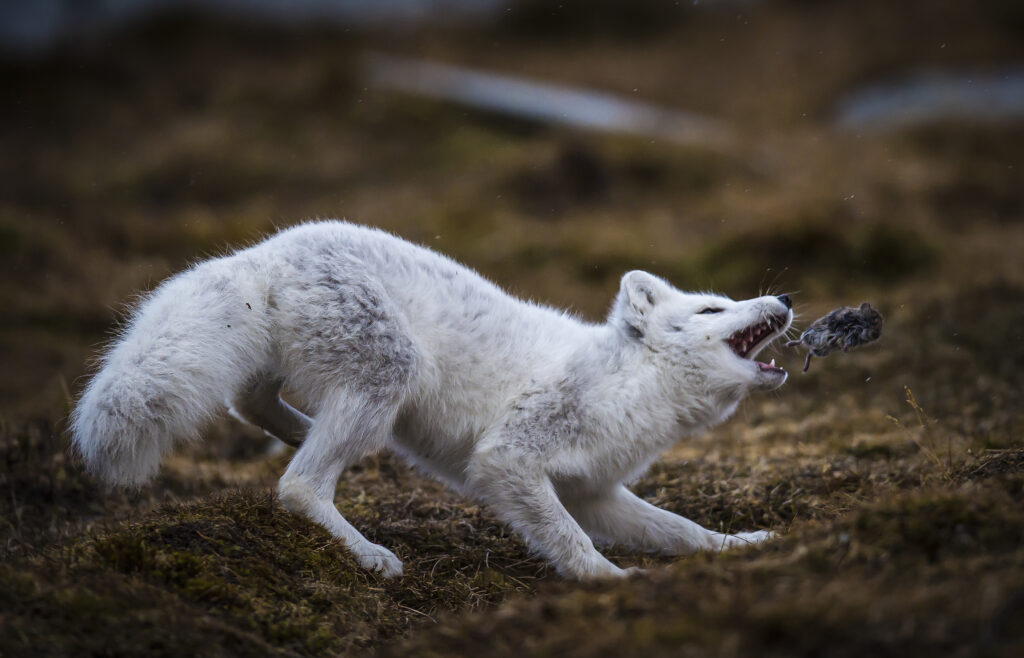 Listed
The Arctic fox was protected in Norway as early as 1930, but despite this, they didn't manage to raise in numbers. The Last known Arctic fox born in the wild at the mountain of Dovre was in 1994, and from the late 90's they was considered as extinct in this area.
Since 2005, NINA, The Norwegian Institute for Nature Research, has run a breeding station for the Arctic fox at the mountain plateau called Sæterfjellet, south of Oppdal in Norway. Animals from several of the small isolated litters of Arctic foxes in Norway and Sweden were caught and for breeding.
The Norwegian Institute for Nature Research (NINA) is Norway's leading institution for applied ecological research, with broad-based expertise on the genetic, population, species, ecosystem and landscape level, in terrestrial, freshwater and coastal marine environments.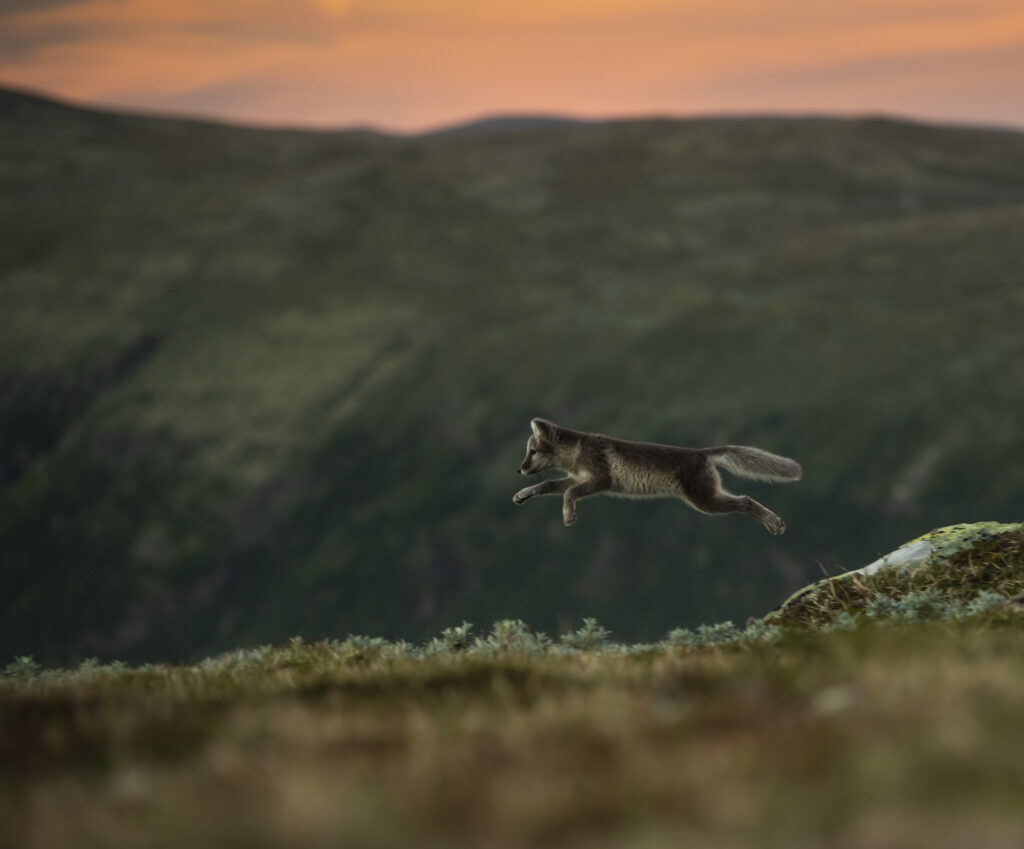 The breeding project has given results both on Dovre and other mountain areas in Norway and Sweden. In 2011 there were 39 litters and at least 270 puppies born in Norway. Nearly half of these were born of Arctic foxes that have been put into nature through the breeding program. The first 15 puppies were released in Dovrefjell 2007. In the following two years, a further 36 puppies were added to the mountain area.
In 2017 there were registered 40 breeding of Arctic foxes in Norway, and a total of 71 in Scandinavia. The minimum stock in Norway based on DNA is estimated at 128-135 A winter 2016/2017. By 2017, 31 youngsters were documented in Sweden, but it is still far away from 2015 when there were 87 puppies.
Source: www.nina.no